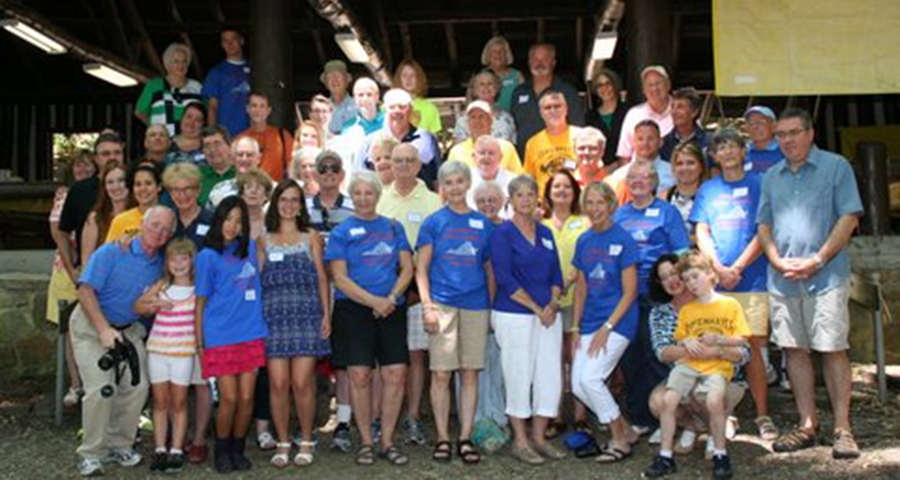 We are excited to announce that our next Copenhaver Family Reunion will be on Saturday, July 28, 2018 at Hungry Mother State Park in Marion, Virginia. This year's celebration will commemorate the 290th year of our ancestors' arrival in America in 1728. It's fun to know that the Copenhaver family used to own the land where Hungry Mother State Park is located and that we can walk where our ancestors walked before us.
10:00a.m. Registration at Shelter #1 in
Hungry Mother State Park
11:00a.m. Call to order
12:00p.m. Family photo & lunch. (Please
bring a dessert to share)
3:00-10:00 p.m. Shelter #1 is reserved all day and evening for the Copenhavers. Plans are for fellowship and to eat dinner at approximately 6:00p.m. Please bring your own dinner and s'more fixings.
The price will be $12 for adults and $6 for children. This will cover the cost of the food and other reunion expenses. We also ask that everyone brings a dessert to share like last year.
Dear Copenhaver Family,
I hope that everyone has had a great year since our 2016 reunion!
As many of you know, it was only in 2005 that I became aware that I descend from Frederick and Eve Phillippi Copenhaver. The next year I attended my first reunion and everyone was so welcoming - it was a wonderful experience that I will never forget. In this day and age, family reunions have become rare, and I urge everyone to learn about and celebrate their family history and meet new cousins. I especially urge cousins who have never attended a reunion to join us.
On Saturday the 29th we will begin the day at 10:00 a.m. by meeting at Shelter 1, which is next to the water and adjacent to the parking lot. It will be fun to meet or become reacquainted with each other! Our official meeting will follow, with a family photograph and then lunch.
After the official meeting and lunch, everyone is encouraged to stay the afternoon and early evening in the park. Our shelter will be available to us into the night, and families may relax together on the beach, strolling the trails, or renting paddle boats.
We encourage anyone with outdoor games such as Corn Hole, Ladder Ball, Badminton or Horse Shoes to bring them with you. For those who wish to participate, we are also planning a Copenhaver Home Site tour to better acquaint ourselves with where our ancestors lived. Another option would be a visit to the Smyth-Bland Regional Library in Marion where the Copenhaver family sponsors the Southwest Virginia Heritage Library, a memorial to Frederick and Eve Phillippi Copenhaver. This special collection room houses books, periodicals, pamphlets, photographs and other materials documenting the history of southwest Virginia and our families. It also houses several Copenhaver family bibles, including Eve Phillippi Copenhaver's family bible which traveled across the Atlantic with her father, John Phillippi.
Our schedule for the day is included in the newsletter. A big thanks to all of the volunteers and officers who give of their time to coordinate the Copenhaver Reunion's business matters, finances, history and communication in order for us to continue this wonderful tradition each year.
I'm looking forward to seeing you all in Marion on the July 29th! Drive safe.
Karla Henderlong
A good portion of us receive the newsletter by e-mail. We would like to cut costs and this would be possible if more people received the newsletter by e-mail. If you would like to help by receiving the newsletter by e-mail please send you information to us via our Contact.
Thank you!
Elizabeth Siebold
Newsletter Coordinator
Our family has been gathering each year for several decades for a reunion to celebrate our ancestors, meet new family and have great time! We make every effort to keep our expenses to a minimum and just to share, we are constantly updating our mail list by removing those where addresses are no longer valid, but we mail approximately 300 newsletters each year and with the cost of printing and postage (envelopes and stamps) it is still expensive.