Good evening,
Based on the results of the preliminary RSVP, and current situations, I have unfortunately come to the decision that this year's reunion will be cancelled. It is extremely disappointing to me that I have had to come to this decision, as I have been informed that since the reunions have started back up in 1975, the reunion has never been cancelled. However, I just do not feel comfortable putting anyone at risk since we would be coming from all over.
If the beach opens up, I know that my family will still be camping in the park during that time. Depending on how things are going, those in the area can do something informally that Saturday. If we are able to do this, I will send out more information.
Again, I am so sorry to have to share this sad news. The reunion is something that I look forward to every year. I love getting to see familiar faces and new ones. I love getting to hear what people have been up to while we have been apart. Now we will have more to catch up on the next time we are together.
Stay healthy and safe.
Your cousin,
Elizabeth Siebold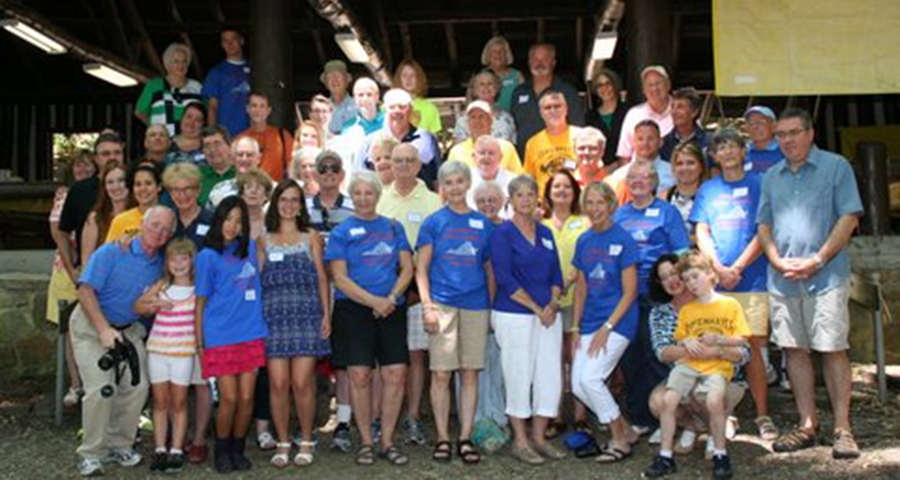 We are excited to announce that our next Copenhaver Family Reunion will be on Saturday, July 28, 2018 at Hungry Mother State Park in Marion, Virginia. This year's celebration will commemorate the 290th year of our ancestors' arrival in America in 1728. It's fun to know that the Copenhaver family used to own the land where Hungry Mother State Park is located and that we can walk where our ancestors walked before us.
10:00a.m. Registration at Shelter #1 in
Hungry Mother State Park
11:00a.m. Call to order
12:00p.m. Family photo & lunch. (Please
bring a desert to share)
3:00-10:00 p.m. Shelter #1 is reserved all day and evening for the Copenhavers. Plans are for fellowship and to eat dinner at approximately 6:00p.m. Please bring your own dinner and s'more fixings.
The price will be $12 for adults and $6 for children. This will cover the cost of the food and other reunion expenses. We also ask that everyone brings a desert to share like last year.
DEVOTIONS IN THE PARK
GOD WANTS YOU TO WIN
HUNGRY MOTHER STATE PARK
SUNDAY, JULY 29,2018, 9 a.m.
At The Amphitheater on the little island in the Lake
Jeff Copenhaver, World Champion Calf Roper, and his wife Sherry have over 28 years of experience in sharing the good news of the Gospel. They are fulfilling the call of God to harvest souls and build champions for Jesus Christ.
Jeff and Sherry are the founders of the world's first "Cowboy Church". It was established in the Fort Worth Stockyards at Billy Bob's Texas in the bull riding arena back in 1986. This was the first part of the vision God gave them to reach the western world with the gospel of Jesus Christ.
Today there are hundreds, probably thousands, of Cowboy Churches across America and around the world.
Jeff was raised on a ranch in Post Falls, Idaho. His Dad, Deb Copenhaver, is a two-time World Champion Bronc Rider, which Jeff says was probably the biggest influence he had in getting interested in rodeo. Deb and Jeff are the only Father/Son World Champions in the history of the Pro Rodeo Association.
They have endeavored to answer the call of God on their lives in reaching the western world, rodeo world, and beyond. They truly give all Glory to God.
The public, as well as all guests at the Park, and friends and are invited to hear this uplifting and inspiring message from a real Cowboy as he gives all the Glory to God. Come as you are, rain or shine. Bring a chair and a rain coat just in case.
Jeff and Sherry, as well as Deb, are attending the Copenhaver Family reunion on this weekend. To learn more about how God Wants You To Win, please visit their website.
A good portion of us receive the newsletter by e-mail. We would like to cut costs and this would be possible if more people received the newsletter by e-mail. If you would like to help by receiving the newsletter by e-mail please send you information to us via our Contact.
Thank you!
Elizabeth Siebold
Newsletter Coordinator
Our family has been gathering each year for several decades for a reunion to celebrate our ancestors, meet new family and have great time! We make every effort to keep our expenses to a minimum and just to share, we are constantly updating our mail list by removing those where addresses are no longer valid, but we mail approximately 300 newsletters each year and with the cost of printing and postage (envelopes and stamps) it is still expensive.